A better face mask
and tested to prove it!
A key problem:
Leakage reduces the performance of most masks and often by more than 50% – facegaiter MK3 reduces leakage to less than 5%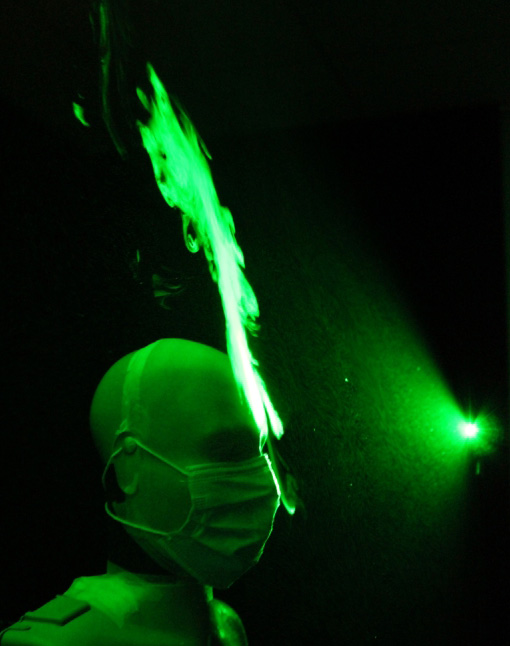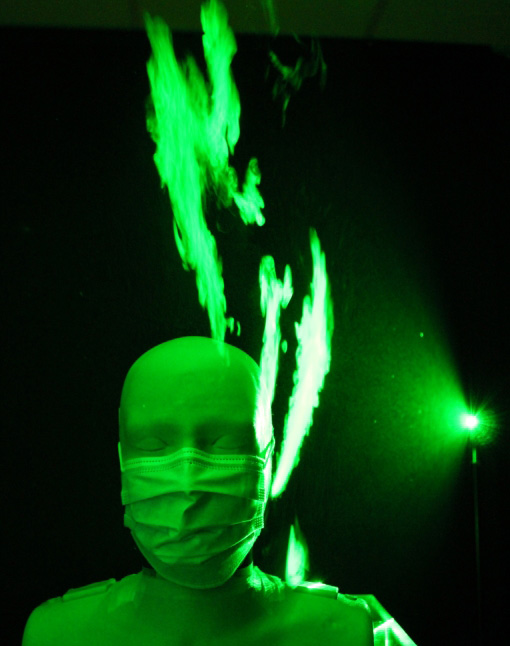 As seen in these photos of one of our test mannequins, masks may have gaps – leakage is visualised here using a 520nm (green) laser to illuminate plumes of aerosols – measured separately these leaks were quantified for a well fitted surgical mask at around 50% when breathing out and 60% when breathing in. See graphs below for further details – some masks leak by up to 80%.
At a minimum face coverings worn by the public should:
Filter out aerosols and droplets – the respiratory particles that can carry bacteria and virus
Seal effectively to prevent leaks that bypass the filter when breathing out and when breathing in

Allow good air flow so that it is easy and comfortable to wear 

Cause no health issues itself
Be simple and convenient to use
The facegaiter meets your needs in several ways:
Filters high levels of aerosols and droplets – CWA 17553:2020 >99%
Has effective seals – to stop leaks and force all of air to pass through the filter
Employs an oversize high flow filter – to make it easier to breathe through
High-quality – no loss in fit or filtration after 100 wash cycles
Takes your comfort into consideration – to handle facial hair, piercings, hearing aids
Fits everybody – and does this comfortably with just 1 measurement

The top graphs show aerosol filtration data from out tests for wearer protection and source control performance of a FFP2/N95 respirator, surgical mask (nose wire crimped and not crimped), 3-ply knitted-cotton mask, 1-ply neck gaiter, and the facegaiter MK3. The bottom graph shows wearer protection after different numbers of wash cycles for the facegaiter MK3. Independent test results show similar levels of performance – click on the links to see the full reports:  Filter performance at 3um after 100 washes, Wearer protection from mask as worn after 2 washes.
We extensively tested the facegaiter in many different ways, to address the weak points found in many types of face coverings.   Our findings are detailed  under the "Our Research" section of this website. We also submitted some of the findings to the UK and Scottish Parliaments
The facegaiter filters effectively (>99% at 3um), maintains a comfortable level of breathability (20Pa when tested to CWA 17553 – 7Pa when tested as a full mask), and reduces leakage dramatically (<5%), all of which helps us respect others' safety while protecting ourselves.  The facegaiter is the result of our evidence-based approach.